A Drop of Blood (Let's-Read-and-Find-Out Science 2) (Paperback)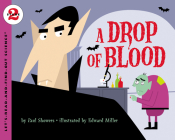 List Price: $5.99
Our Price: $4.99
(Save: $1.00 17%)
Description
---
Read and find out about how your body uses blood in this colorfully illustrated nonfiction picture book.
You've seen your own blood, when you have a cut or a scrape. You can see the veins in your wrist, and you've seen the scab that forms as a cut heals. But do you know what blood does for you?
"An excellent choice for units on the circulatory system or to take the fear out of cuts, scrapes, and blood tests," according to a School Library Journal starred review.
Without blood, you couldn't play, or grow, or learn. That's because just about every part of your body needs blood, from your muscles to your bones to your brain. How does your body use blood? Read and find out! 
This is a clear and appealing science book for early elementary age kids, both at home and in the classroom. It's a Level 2 Let's-Read-and-Find-Out, which means the book explores more challenging concepts for children in the primary grades. The 100+ titles in this leading nonfiction series are:
hands-on and visual
acclaimed and trusted
great for classrooms
Top 10 reasons to love LRFOs:
Entertain and educate at the same time
Have appealing, child-centered topics
Developmentally appropriate for emerging readers
Focused; answering questions instead of using survey approach
Employ engaging picture book quality illustrations
Use simple charts and graphics to improve visual literacy skills
Feature hands-on activities to engage young scientists
Meet national science education standards
Written/illustrated by award-winning authors/illustrators & vetted by an expert in the field
Over 130 titles in print, meeting a wide range of kids' scientific interests
Books in this series support the Common Core Learning Standards, Next Generation Science Standards, and the Science, Technology, Engineering, and Math (STEM) standards. Let's-Read-and-Find-Out is the winner of the American Association for the Advancement of Science/Subaru Science Books & Films Prize for Outstanding Science Series.
About the Author
---
Paul Showers wrote twenty books for the Let's-Read-and-Find-Out Science series, including favorites such as
What Happens to a Hamburger?
and
Where Does the Garbage Go?
Mr. Showers worked on the
Detroit Free Press,
the
New York Herald Tribune,
and for thirty years, the
Sunday New York Times.
Edward Miller has illustrated A Drop of Blood and What Happens to a Hamburger? for the Let's-Read-and-Find-Out Science series. He lives in New York City.
Praise For…
---
"Sure to be a hit with today's youngsters. Charismatic monsters demonstrate the role of blood in breathing, healing, and fueling the body. Spooky and exciting without being scary. High-quality, close-up photographs of blood cells, platelets, and fibrin under the microscope are well placed within the illustrations, and science concepts are presented with just the right amount of detaiI for the intended audience. This is an excellent choice for units on the circulatory system or to take the fear out of cuts, scrapes, and blood tests." — School Library Journal (starred review)