The Great Big Easter Egg Hunt (Peter Rabbit) (Novelty book)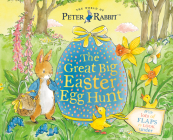 $8.99

On Our Shelves Now is not up to the minute real time. If you really need this - call us!
Description
---
Help Peter Rabbit find the missing Easter eggs in this fun lift-the-flap book!

Peter is so excited for the Easter picnic—there will be carrots and radishes, fresh lemonade and, best of all, Easter eggs for everyone! But Peter accidentally knocks over everyone's Easter eggs, and now he has to find them all before the picnic starts!

This book is filled with fun flaps to lift as you help Peter look for all the missing Easter eggs.
About the Author
---
Beatrix Potter was born on July 28, 1866, at No. 2, Bolton Gardens, Kensington, London. Beatrix Potter discovered her love of nature on annual summer holidays in Scotland and the Lake District.  On September 4, 1893, Beatrix sat down to write a picture letter to Noel Moore, the five-year-old son of her ex-governess, all about a naughty rabbit called Peter. Noel was ill in bed and so Beatrix wrote to him: "My dear Noel, I don't know what to write to you, so I shall tell you a story about four little rabbits. . . . " Some years later, Beatrix thought of publishing the story as a book. She rewrote it into an exercise book and sent it to six publishers. It was rejected by every one of them. It was not until Beatrix had printed the book herself that Frederick Warne agreed to publish it. The Tale of Peter Rabbit was published in 1902, costing one shilling (the equivalent of just 5 pence today), and became one of the most famous stories ever written. Many of Beatrix's later books were set at Hill Top—the rats that infested the farm inspired The Tale of Samuel Whiskers, Tom Kitten and his sisters climb up the rockery wall at the bottom of Hill Top garden, and Ginger and Pickles.