Welcome to the Symphony: A Musical Exploration of the Orchestra Using Beethoven's Symphony No. 5 (Hardcover)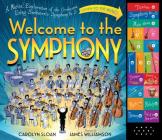 $29.99

Not in Store - Usually Ships in 2-7 Days from Warehouse
Description
---
Please take your seat. The concert is about to begin!
 
"An ideal way to introduce children to the magic of music—delightful, charming, wonderfully entertaining, beautifully illustrated."—Gerard Schwarz, Music Director, the All-Star Orchestra
 
Discover what a symphony is. Who Beethoven was. What happens when a conductor takes the podium and faces of the orchestra. And when you should and shouldn't clap.
Here is a unique, interactive introduction to the world of classical music, presenting one of the most famous symphonies ever written, by one the most famous composers who ever lived.

With its 19-button sound panel, you'll hear the different parts and voices of the music—the beginning of Symphony No. 5, the melody, the harmony, the sounds made by a violin, a viola, a cello, a double bass, and more. And you can even sing along.

Note to parents: The secret to raising a child to love and appreciate classical music isn't a secret at all. You just need to listen with your child and be a willing explorer. Talk about what you hear. Marvel at the sounds. Try to identify the instruments—and have fun with it!
 
About the Author
---
Carolyn Sloan is the author of Welcome to the Symphony and Welcome to Jazz. A music educator, songwriter, and musician, she writes music for theater, television, and children. She the founder of a new online education company, TeachMe TV.  She lives in Brooklyn, New York, with her family. 
James Williamson is an illustrator, designer, and artist whose work has appeared in
The New York Times
and numerous children's books. He lives with his wife in Brooklyn, New York.  
Praise For…
---
"An ideal way to introduce children to the magic of music—delightful, charming, wonderfully entertaining, beautifully illustrated." —Gerard Schwarz, Music Director, the All-Star Orchestra

"Welcome to the Symphony [lives] up to the publisher's promise that children will enjoy it . . . it passed the 4-year-old test with flying colors." — The Washington Post

 "An ideal way to introduce children to the magic of music—delightful, charming, wonderfully entertaining, beautifully illustrated."
–Gerard Schwarz, music director, The All-Star Orchestra and music director laureate, Seattle Symphony


 —Gerard Schwarz

"A delight for kids of any age! Educational, fun, a visual and aural treat, this book introduces children to the wonderful world of symphony music. With gorgeous illustrations, clear and straightforward descriptions of the instruments, and interactive buttons that play beautiful Beethoven, this will have your kids dragging you to the symphony! I simply adored it."
–Terry Kinney, director, actor, and co-founder of the Steppenwolf Theatre Company.
 —Terry Kinney

"Lively, beautifully written…a charming way to educate the next generation of concert-goers."
–Orin O'Brien, double bassist, The New York Philharmonic



—Orin O'Brien

"This beautiful book appeals on so many levels...The charming illustrations and brilliant musical recordings provide the perfect sensory stimuli, while the text illuminates every question a child might have about the experience in the most natural and satisfying way."
–Dorothy Lawson, artistic director, Ethel String Quartet

—Dorothy Lawson

"An introduction to one of the greatest of all classical works that quite wondrously includes not just words and pictures, but some of the music itself. And to think that the musicians playing the excerpts are young people as well, members of the New York Youth Symphony! What could be more inspiring?"–Ted Libbey, author of The NPR Listener's Encyclopedia of Classical Music
—Ted Libbey