Elizabeth Started All the Trouble (Hardcover)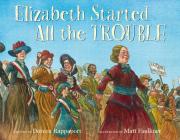 $17.99

Not in Store - Usually Ships in 2-7 Days from Warehouse
Description
---
She couldn't go to college.

She couldn't become a politician.

She couldn't even vote.

But Elizabeth Cady Stanton didn't let that stop her.

She called on women across the nation to stand together and demand to be treated as equal to men-and that included the right to vote. It took nearly seventy-five years and generations of women fighting for their rights through words, through action, and through pure determination . . . for things to slowly begin to change.

With the help of these trailblazers' own words, Doreen Rappaport's engaging text, brought to life by Matt Faulkner's vibrant illustrations, shows readers just how far this revolution has come, and inspires them to keep it going!
About the Author
---
Doreen Rappaport has written numerous award-winning books for children, including Freedom Ship and The School Is Not White (both illustrated by Curtis James); Martin's Big Words: The Life of Dr. Martin Luther King, Jr., a Caldecott Honor Book and Coretta Scott King Honor Book illustrated by Bryan Collier; and John's Secret Dreams: The Life of John Lennon, also illustrated by Bryan Collier.

Matt Faulkner, a graduate of Rhode Island School of Design, is an acclaimed illustrator who has written and illustrated a number of children's books, including Gaijin: American Prisoner of War, The Moon Clock, Black Belt, and A Taste of Colored Water. Matt lives with his wife, Kris Remenar, an author and children's librarian, and their children, in southeast Michigan. Visit him at www.mattfaulkner.com.
Praise For…
---
PRAISE FOR MARTIN'S BIG WORDS

* 2002 Caldecott Honor Book
* 2002 Coretta Scott King Honor Book
* Child Magazine Best Book of 2001
* New York Times Book Review Best Illustrated Children's Book of 2001

PRAISE FOR MARTIN'S BIG WORDS

* "A stunning, reverent tribute."—School Library Journal, starred review

PRAISE FOR MARTIN'S BIG WORDS

"An ideal introduction to this leader and his works The portraits of King exude his spiritual strength and peaceful visage."—Publishers Weekly

PRAISE FOR ABE'S HONEST WORDS

* "Exceptional art, along with Rappaport's and Lincoln's words, makes this a fine celebration of a man who needs little introduction."—Booklist, starred review

PRAISE FOR ELEANOR, QUIET NO MORE

"This is a gracious and admiring portrait, a splendid way to introduce the "First Lady of the World" to a new generation of young children."—Kirkus Reviews

PRAISE FOR ELEANOR, QUIET NO MORE

* "Once again Rappaport celebrates a noble, heroic life in powerful, succinct prose, with prominent, well-chosen, and judiciously placed quotes that both instruct and inspire...Celebrate women in history and in politics with this picture-book life."—School Library Journal, starred review

PRAISE FOR ELEANOR, QUIET NO MORE

* "Rappaport's spare text and Kelley's handsome paintings, evocative of WPA murals, reclaim the legendary first lady's story for the younger set, revealing the person behind the icon."—Publishers Weekly, starred review

PRAISE FOR ELEANOR, QUIET NO MORE

* "Even familiar political figures can get bold new treatments, as this dramatic picture-book biography shows...an exciting introduction to a well-loved leader."—Booklist, starred review

PRAISE FOR HELEN'S BIG WORLD

"Helen Keller's transcendent leap across the barriers of her blindness and deafness continues to inspire."—Kirkus Reviews

PRAISE FOR HELEN'S BIG WORLD

* "Stirring and awe-inspiring."—The Horn Book, starred review

PRAISE FOR HELEN'S BIG WORLD

* "While there are many books available about Helen Keller for this age group, this title offers a unique and beautiful perspective on her life."—School Library Journal, starred review

PRAISE FOR TO DARE MIGHTY THINGS

* "Concisely written and yet poetic, this is a first purchase for every library."—School Library Journal, starred review

PRAISE FOR TO DARE MIGHTY THINGS

* "Theodore Roosevelt's big ideas and big personality come together in this splendid picture-book biography."—Booklist, starred review

PRAISE FOR TO DARE MIGHTY THINGS

* "U.S. president Theodore Roosevelt certainly dared mighty things, and this lavish picture-book biography deftly captures the legendary man's bold, exuberant nature. . . . A truly inspiring tribute to a seemingly larger-than-life U.S. president."—Kirkus Reviews, starred review