The Apollo Missions for Kids: The People and Engineering Behind the Race to the Moon, with 21 Activities (For Kids series) (Paperback)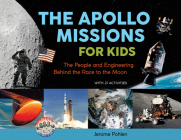 Description
---
In 1961, President Kennedy issued a challenge: before the end of the decade, the United States would land a person on the moon and return him safely to Earth—a bold proclamation at the time given that only one US astronaut had ever been to space, for just 15 minutes. To answer President
Kennedy's call, NASA embarked on the Apollo missions: a complicated, dangerous, and expensive adventure involving 400,000 people. Before the missions were over, NASA astronauts had made eleven Apollo flights, six of which landed on the moon, and eight astronauts had lost their lives.
The Apollo Missions for Kids tells the story of this pivotal era in space exploration from the perspective of those who lived it—the astronauts and their families, the controllers and engineers, and the technicians and politicians who made the impossible possible. The book includes a time line, resources for further study, and places to visit to see Apollo mission artifacts, along with 21 hands-on activities to better understand the missions and the science behind them. Kids will:
Determine what they would weigh on the moon
Learn to identify the moon's features
Demonstrate orbital mechanics with a marble and a shallow bowl
Calculate how far away the moon is using sports equipment
Recreate the shape and size of the command module
Eat like an astronaut and make "space food"
Design a mission patch
And much more!
About the Author
---
Jerome Pohlen is a former elementary school science teacher, an engineer, an editor, and the author of Albert Einstein and Relativity for Kids as well as a dozen award-winning science kits, including Famous Experiments, Microscopic World, and Wild Weather.
Praise For…
---
"The greatest exploring voyages in history, the Apollo missions to the moon still awe and inspire half a century on. In clear and exciting prose, Jerome Pohlen brings the Apollo story to a new generation of explorers." —Tom Jones, four-time shuttle astronaut and author of Sky Walking: An Astronaut's Memoir

"[A] detailed and generously illustrated overview...An ideal candidate for STEM collections." --Booklist

"An engrossing portrayal…at once broad in scope and rich in specific details." --Kirkus Online

"The best Apollo book I've read." --Geek Mom

"an outstanding supplement to school materials for kids." --Rhapsody in Books

"very highly recommended for all young space enthusiasts." --Midwest Book Review

"one of those books you will buy now and do with your kids, and can enjoy time and again." --Inspired by Savannah

"I love a book that is well-designed and thought out." --A Net in Time

"Chicago Review Press knows how to pull together facts about people, things and events into books kids — and their parents — actually want to read." --Cracking the Cover

"Pohlen's work has drama, reads like literary nonfiction, and would be fabulous for reluctant readers...Highly Recommended."—School Library Connection