The Dog I Loved: A Novel (CD-Audio)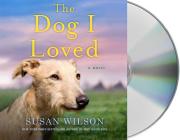 $39.99
No longer available from Storybook Cove
Description
---
New York Times bestselling author Susan Wilson is back another signature heartwarming audiobook—one that begs the question: Can a dog lead the way to finding one's humanity?

After spending years in prison for a crime she didn't intend to commit, Rose Collins is suddenly free. Someone who knows about the good work she has done—training therapy dogs while serving time—has arranged for her early release. This mysterious benefactor has even set her up with a job in the coastal Massachusetts community of Gloucester, on the edge of Dogtown, a place of legend and, for the first time since Rosie's whole world came crashing down, hope. There she works to rebuild her life with the help of Shadow, a stray dog who appears one rainy night and refuses to leave Rose's side.

Meghan Custer is a wheelchair-bound war veteran who used to be hopeless, too. Living at home with her devoted but stifling parents felt a lot like being in prison, in fact. But ever since she was matched with a service dog named Shark, who was trained in a puppy-to-prisoner rehabilitation program, Meghan has a brand new outlook. Finally, she can live on her own. Go to work. And maybe, with Shark by her side, even find love again.

Two strong women on a journey toward independence whose paths collide in extraordinary ways. Two dogs who somehow manage to save them both. A tale of survival and a testament to the human spirit, The Dog I Loved is an emotional and inspiring audiobook that no listener will soon forget.
About the Author
---
Susan Wilson is the bestselling author of several books including One Good Dog, Cameo Lake and Beauty, a modern retelling of Beauty and the Beast, which was made into a CBS-TV movie. She lives on Martha's Vineyard.

Christina Delaine is a SOVAS Voice Arts Award and multiple AudioFile Earphones Award-winning narrator who has recorded over 100 audiobooks. She is also an Audie Award nominee. An accomplished stage and voice actor, Delaine has appeared on stages across the country and has voiced scores of commercials and video games.
Praise For…
---
Praise for The Dog I Loved:

"With a deft hand and keen eye, Susan Wilson brilliantly illuminates the emotional power of dogs to lighten our hearts and transform our lives." —Nick Trout, New York Times bestselling author of The Wonder of Lost Causes

"Broken souls are made whole in this beautiful story about the power of connecting. Susan Wilson does a gorgeous job of inhabiting her characters - both human and canine - in a book that captivates on every page. The Dog I Loved is tender, warm, insightful, and ultimately, very human." —Ellen Meister, author of The Other Life

"The Dog I Loved is gorgeous and wrenching, psychologically astute and compassionate. I have always wanted to know what dogs think, and now I do. Susan Wilson gets into the hearts and minds of her complicated, brilliantly drawn characters, both human and canine. She has always been a writer of tremendous heart and insight; this is her best book yet." —Luann Rice, bestselling author of The Secret Language of Sisters

Praise for A Man of His Own:

"Touching and heartfelt." —Modern Dog magazine

"A War Horse for dog lovers." —Booklist

"A Nicholas Sparks–ian romantic drama, with an 'everyone loves a dog' twist." –Kirkus