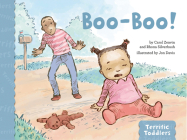 $8.99

On Our Shelves Now is not up to the minute real time. If you really need this - call us!
Description
---
Ideal for actual toddlers when parents are using the bestselling Busy Toddler's Guide to Actual Parenting: From Their First "no" to Their First Day of School (and Everything in Between) parenting book by Susie Allison, The Montessori Toddler: A Parent's Guide to Raising a Curious and Responsible Human Being by Simone Davies, illustrated by Hiyoko Imai, and Best practices in Toddler Discipline from 1 to 5 without tantrums: Effective Strategies for Developing and Helping your Child
by Mary Simmons, the six books in the Terrific Toddlers Series are Time to Go , New Baby , Potty , Bye-Bye , Boo-Boo , and All Mine The books are written by experts in the field and are critically acclaimed. Here comes JoJo. JoJo likes to run FAST
She is running, running, running down the block.
Uh-oh JoJo falls down and bumps her chin. When JoJo falls down and hurts her chin, her dad tries to help her boo-boo. But JoJo is scared Her dad helps her understand that boo-boos aren't so scary. Boo-Boo soothers toddlers fears about small cuts and scrapes. Includes a Note to Parents and Caregivers about helping toddlers with minor injuries. Written with simple language and reflective of children's realities, the Terrific Toddlers series is based on understanding of the developmental level of young toddlers. Titles include All Mine , Boo-Boo , and Bye-Bye . From the Note to Parents and Caregivers: We know they're low to the ground, but with their high energy levels and fearless explorations, toddlers sure are prone to injury. Most such injuries are minor--cuts, scrapes, and scratches--so we adults just want to clean and bandage them quickly, with a minimum of fuss. If only our toddlers would let us But to a toddler, even a small cut, scrape, or scratch is a big deal. After all, toddlers don't yet know that the injury will repair itself. It's an assault on their growing, but as yet fragile, sense of wholeness. They think they're broken forever. And sometimes, no matter how uncomfortable the injury, toddlers are likely to consider the cure to be worse. "No Band-Aid "* But once a toddler has come to understand that Band-Aids are not the enemy, the Band-Aid becomes the cure-all. Covering the wounded area makes the toddler feel whole again.
About the Author
---
Carol Zeavin earned her BA in music from UCLA and became a successful freelance orchestral violinist and chamber musician in New York City. She earned master's degrees in education and special education from Bank Street College and worked with infants and toddlers from 1992 to 2010, both as head teacher at Rockefeller University's Child and Family Center and Barnard's Toddler Development Center, and as a special educator employed by Y.A.I. and Theracare. She continues to perform classical music in NYC and teaches violin and piano to kids and grownups of all ages and abilities. Rhona Silverbush, co-author of the Terrific Toddlers series, studied psychology and theater at Brandeis University and holds a juris doctor from Boston College Law School. Rhona is the co-author of Speak the Speech! Shakespeare's Monologues Illuminated (Faber and Faber, 2002) and has taught theater to all age groups from tots to adults. She has taught at Columbia University Teachers College and is also a freelance writer and editor and a consultant for families of children and teens with learning differences and special needs. Visit her at www.rhonasilverbush.com Jon Davis is an award-winning illustrator who has illustrated more than 70 books, including the Terrific Toddlers Series for Magination Press. He works digitally, in Photoshop with a tablet and pen and based in the Lake District, England. Visit him at www.jonsmind.com and follow him on Twitter: @JonDavisIllust.