Moose the Worry Mutt Goes to Doggy Daycare (Hardcover)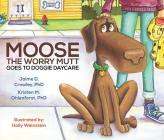 Description
---
Moose, a lovable chocolate lab with an enthusiasm for tennis balls, bones, and all things squirrel, is a chronic worrier. On his first day at doggie daycare, Moose feels butterflies in his belly when he thinks about the endless worries that Fret the Flea whispers into his floppy brown ear. What if Moose can't run as fast as the other dogs? What if his parents forget to pick him up? A hero emerges in the form of Mighty Moose, the brave rival to meddlesome Fret. With Mighty Moose's help, Moose returns to doggie daycare and learns to face his fears and run with the big dogs. Moose the Worry Mutt Goes to Doggie Daycare is a lighthearted picture book with both popular appeal and therapeutic benefits. Moose's experiences are a model of healthy strategies for managing anxiety, while the book's bright illustrations and lovable characters make this a tale that kids are sure to enjoy time and time again.
About the Author
---
Dr. Jaime Crowley is a licensed psychologist living in Dallas, Texas, with her anxious but affable dog, Moose. She adopted Moose shortly after graduating Northwestern University with her bachelor of arts in English and psychology. After earning her doctorate in clinical psychology from UT Southwestern Medical Center, she joined Therapy Dallas, where she works alongside Dr. Ohlenforst. Dr. Crowley specializes in treating children and adolescents with Moose-like worries while providing parent consultation.

Dr. Kristen Ohlenforst is a licensed psychologist living in Dallas, Texas. After graduating Notre Dame with a degree in studio art and design, she switched career paths to become a psychologist. Dr. Ohlenforst earned her doctorate at UT Southwestern Medical Center and subsequently completed her postdoctoral fellowship at Stanford School of Medicine, where she specialized in treating childhood anxiety disorders. She has run private practices both in San Francisco and now in Dallas (www.TherapyDallas.com) and enjoys spending time with her rescue dog, Gunner, who is entirely obsessed with squirrels.

Holly Weinstein received her BFA degree from The College of Art and Design at Lesley University, and she has since illustrated several picture books. She lives in Dallas, Texas, with her husband and two children. Inspired by Magnet Max, Holly and her kids had adventures at home, in their backyard, and inside many local hardware stores collecting as many magnetic materials as they could to include in the illustrations.
Praise For…
---
"With great storytelling and beautiful illustrations, Moose the Worry Mutt Goes to Doggie Daycare is a wonderfully engaging story that uses the power of metaphor to help children learn about how to control their worries. Moose's transformation from a 'worrier' to a 'warrior' is a great way for children to discover just how powerful they can be. Highly recommend!"
- JODY THOMAS, PHD
ASSISTANT CLINICAL PROFESSOR, DEPARTMENT OF PSYCHIATRY, STANFORD UNIVERSITY SCHOOL OF MEDICINE

"This is a delightful story that will appeal to kids of all ages. The authors validate the experience of chronic anxiety – fear of uncertainty, worries about the worst-case scenario, and avoidance of situations that feel dangerous. Moose teaches us that our thoughts might be scary, but that doesn't make them dangerous, and a new perspective can help us face our fears."
- ALI MATTU, PHD
CLINICAL PSYCHOLOGIST, COLUMBIA UNIVERSITY CLINIC FOR ANXIETY AND RELATED DISORDERS
HOST, THEPSYCHSHOW.COM

"Moose the Worry Mutt Goes to Doggie Daycare is an excellent resource for anxious children and their parents. "Fret the Flea" cleverly embodies the negative self-talk that these children experience resulting in avoidant and compulsory behaviors. Moose learns to recognize and capitalize on his inner strength in a way that will provide helpful coping strategies for youth who struggle with anxiety."
- BETSY KENNARD, PHD
PROFESSOR, UNIVERSITY OF TEXAS SOUTHWESTERN MEDICAL CENTER, CHILDREN'S HEALTH, DALLAS

"Moose the Worry Mutt Goes to Doggie Daycare is a fun way to explain anxiety coping strategies to young children. The principles in the book are grounded in the research on effective treatments for childhood anxiety and will be useful to mental health professionals, parents, and teachers alike."
- AMANDA JENSEN-DOSS, PHD
ASSOCIATE PROFESSOR, CHILD DIVISION, UNIVERSITY OF MIAMI