The Tantrum That Saved the World (Hardcover)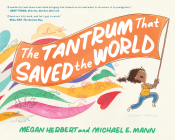 $19.95

Not in Store - Usually Ships in 2-7 Days from Warehouse
Description
---
"Illustrated in a cartoon-like style in watercolor paint and mixed media on paper, this picture book is an invitation for teachers and students to learn about the climate crisis and to be part of the solution."
—School Library Journal

An environmental picture book about finding your voice, taking collective action, and saving the planet for kids ages 5 - 9.

Tantrums are bad--except when they save the world!


Sophia's minding her own business when--bing bong!--the doorbell announces an unexpected guest: a polar bear. Despite Sophia's protests, he walks right in, making himself at home. His ice cap is melting--where else is he supposed to go?

Soon, more visitors arrive: a dispirited sea turtle and farmers whose lands have gone dry are joined by confused bees, more climate refugees, and a grumpy Bengal tiger. Sophia is frustrated and confused. She doesn't understand why they showed up at her house...or what any of this has to do with her.

But as Sophia hears their stories, she learns that this is her fight, too...and discovers the power of collective action, the strength of her own voice, and how all of us are stronger together. They head to City Hall only to wait around for hours before being dismissed, and Sophia just can't hold it in anymore:

Sophia's strong feelings smouldered once more,
And this time they'd gotten too big to ignore.
Raging with purpose, with banners unfurled,
She kicked off a tantrum to save the whole world!

And she does--and so can you. An inspirational, beautifully illustrated picture book for kids aged 5 to 9, The Tantrum that Saved the World is part environmental story, part ode to community action, and part blueprint for building a better world--together, for all of us.
About the Author
---
MEGAN HERBERT is a writer and illustrator whose career writing television and film scripts, designing products, cartooning, live-drawing, and creating children's books has spanned twenty years. In 2017 she illustrated the world's first carbon-neutral climate change kids' book, The Tantrum That Saved The World, which won a 2018 Moonbeam Award for books about Environmental Issues and the 2019 American Meteorological Society's Louis J. Battan Award for best children's book, K-12. In 2019, she was chosen to be an Artist for the Earth by The Earth Day Network, for whom she creates cartoons on the topic of climate change. She has lived in Toronto, London, Reykjavik, and Amsterdam, but is now happily back among the gum trees in Australia.

MICHAEL E. MANN is Distinguished Professor of Atmospheric Science at Penn State, with joint appointments in the Department of Geosciences and the Earth and Environmental Systems Institute (EESI). He is also director of the Penn State Earth System Science Center (ESSC).
Dr. Mann has received numerous awards and contributed, with other IPCC authors, to the award of the 2007 Nobel Peace Prize. You can view his full bio at https://michaelmann.net.
Praise For…
---
"A wonderful and important book bringing the climate crisis and what to do about it to youngsters."
—JANE FONDA, Actress, Author, Activist

"Check out this book, and let's get to work."
—BILL NYE, The Science Guy

"This is my kind of book! Sophia understands the elements of the climate crisis better than almost any
adult I've come across. Basically, when we fight, we win! And Sophia fights with all the nonviolent
creativity that we have to unleash. What a hero!"
—BILL MCKIBBEN, author of The End of Nature

"The Tantrum That Saved the World is a beautiful and thoughtfully illustrated children's book with a powerful story of active hope. It empowers the reader to move from angst to action. This delightful book is accessible to all—an essential resource that can be returned to on a regular basis. In addition to a captivating story, the book provides a clear and solid foundation on the science of climate change including the causes, impacts, and solutions. A must have for every household and classroom." 
—HARRIET SHUGARMAN, award-winning author of How to Talk to Your Kids About Climate Change and founder of ClimateMama

"This book is entertaining with great drawings and characters. I can relate to Sophia's struggles as a youth climate activist. The info at the end also makes it a great resource for schools and libraries." 
—SOPHIA MATHUR, youth climate activist, age 14
 
"A charming, wonderful, and important book."
—NAOMI ORESKES, author of Science on a Mission and Professor of the History of Science, Harvard University

"This is so important for our children and grandchildren."
—TERRY MCCAULIFFE, 72nd governor of Virginia

"It's always been my dream to have climate books for children to educate and inform. In this book Megan and Michael have done this brilliantly. This story will inspire the reader and start them on their journey of environmentalism helping to build a generation who cares for the planet and want to save it."
—LILLY PLATT, Global Youth Ambassador, speaker and environmental activist, age 13 

"Our kids will bear the brunt of global heating and need to be part of the climate conversation. Told with equal parts humour and rigour—and beautifully drawn—The Tantrum That Saved the World gives children a way to think about the climate emergency we are all grappling with."
—PADDY MANNING, journalist and author of Body Count