Smeagull the Seagull, A True Story (Hardcover)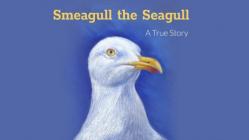 $25.00

On Our Shelves Now is not up to the minute real time. If you really need this - call us!
Description
---
Smeagull the Seagull comes to the house near the shore every day and knocks on the sliding glass door. He knocks when he's hungry, and the people who live there feed him. Smeagull rules the roost! Keeping him fed is an exhausting job, but when Smeagull disappears, it makes clear what an important family member Smeagull has become. 

This is a true story. Smeagull the Seagull is a wild herring gull who does indeed knock on Valerie and Mark's house everyday where he is fed scraps of sustainable seafood. There are few places on earth without seagulls, both on shore and inland, and every child will find Smeagull captivating and yet familiar. 

Smeagull the Seagull teaches young children that animals are precious and have needs and feelings and family, just like us. It is a good and moral story intended to help jump-start the next generation of conservationists. The planet needs them. Smeagull needs them too!

Smeagull is the Official Mascot of Friends of Stewart B. McKinney National Wildlife Refuge where he is affectionately known as "The Smokey the Bear of Coastal Wildlife.
About the Author
---
Author Biography: Mark Seth Lender Mark Seth Lender is the Explorer in Residence at the nationally broadcast Public Radio program, Living on Earth. Mark writes, produces and presents his own material on air. His book, Salt Marsh Diary: A Year on the Connecticut Coast was published by St. Martin's Press in 2011. A collection of his stories about wildlife, Cardinal Points, will be published in 2023. Mark has made friends with seagulls on all seven continents and has scientifically determined that seagulls are the best, and the smartest! Illustrator Biography: Valerie Elaine Pettis Valerie Elaine Pettis is a graphic designer of international reputation, known especially for her work in human rights and, in particular, for her symbol for the International Decade of Women which she designed for the United Nations. Her work has always maintained a pronounced sense of play. Valerie loves seagulls and plays with them all the time. They love her too. Smeagull the Seagull Biography Smeagull is a real herring gull who lives in the Stewart B. McKinney National Wildlife Refuge on Long Island Sound. At the center of his territory is The House on the Shore, the home of his illustrator Valerie Elaine Pettis and biographer Mark Seth Lender. Smeagull highly approves of their work on Smeagull the Seagull, A True Story and has awarded the book a "Smeagull Order of Excellence". In further recognition of Valerie and Mark's efforts, Smeagull has bestowed upon them the much-coveted "Commander of the Bird Empire".
Praise For…
---
"Smeagull the Seagull is the 'total package' – a lovely story, with a great message and fantastic illustrations. It should be on every child's nightstand."
Holly Connors – Feathered Quill Book Review

"Love story on the wing... A children's book with widespread appeal... a story you will read again and again, and one you will never forget."
Rona Mann – Ink Magazine

"Outwardly simple, yet speaks to our inner humanity, Smeagull the Seagull is well worth the purchase."
J. B. Wilder – 5 Star Review

"Smeagull the Seagull is a powerful and captivating picture book that will enthrall readers young and old through its vivid and poignant illustrations and mesmerizing text. This endearing and unforgettable story is a must-read, modern classic."
Michelle Bruch, M.Ed., Ed.S. – Kindergarten Teacher

"Great rhyming! Great illustrations! Great Book! We are amazed that it is a true story! Go Smeagull! Go Seagull!"
Leo, age 7 ½ – 5 Star Review

"An excellent read-out loud storybook."
Ilgar Guo – Head of Programming, Uniondale Library